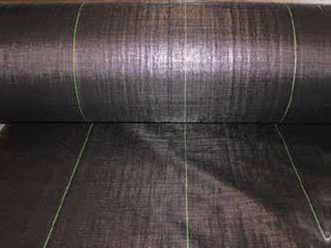 This commercial grade groundcover cloth is made from 100% polypropylene and is UV resistant for long term exposure to sunlight.
With 98% blockage of light it is ideal for weed control and also has a high tensile strength (over 90lb) and is very durable.
This product is also good for soil separation as it permits air and water to pass through for proper soil absorption and is easy to install.
The cloth also has a green stripe every 12" on center ideal for planting layouts on a hillside or nursery use. The stripe also helps with dripline installation alignment and we also sell heavy duty landscape staples for this product.